In 2020, global e-commerce retail sales are estimated to reach US$3.9 trillion (HK$30.2 trillion), almost tripled from 2014's US$1.3 trillion (HK$10.1 trillion), accelerated by the recent outbreak of COVID-19 (see Figure 1).

Figure 1: e-commerce retail sales worldwide by region, 2014 and 2020 (Source1)


The current e-commerce landscape in Hong Kong is also developing rapidly, with more retailers setting up their online presence and shoppers changing their consumption patterns and lifestyles. With more than 5 million e-shoppers in 2020, the e-commerce penetration rate in Hong Kong is at 68.7% according to Statistica, and is expected to hit 83.8% in 2025, adjusted for expected impact of COVID-19 (see figure 2 and 3).
Figure 2: Hong Kong e-commerce users in millions 2017-2025 (Statistica Projection) (Source2)
Figure 3: Hong Kong e-commerce user penetration rate 2017-2025 (Statistica Projection) (Source2)
E-commerce sales in Hong Kong have been steadily increasing, from US$ 2.9 billion in 2017 to an estimated US$ 6.4 billion in 2020 (CAGR of +30%). It is forecasted to grow at an annual rate of 12% next 5 years, reaching US$11.3 billion by 2025.

In particular, the electronic and media category sales grew from US$ 791.7 milllion in 2017 to an estimated US$ 1,345.7 million in 2020 (CAGR of +19%). Electronic and media category e-commerce sales are forecasted to grow at an annual rate of 8.5% over next 5 years, reaching US$2,029.1 million by 2025.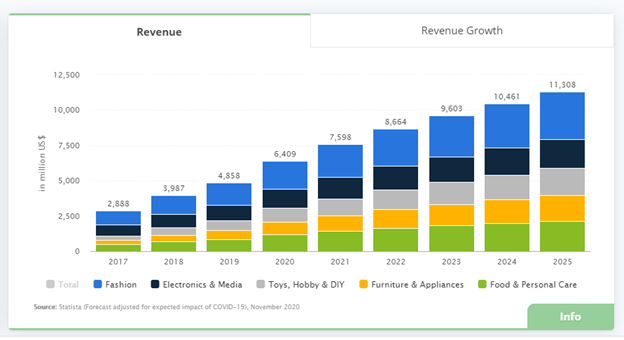 Figure 4: Hong Kong e-commerce market sales in million USD (Statistica Projection) (Source2)
Enhancing customer experience is seen as key in embracing e-commerce opportunity
Improving the customer journey and user experience, creating a consistent brand experience across channels are considered important for modern day business. KPMG survey has shown that customisation of products and services, as well as the personalisation of customer experience are viewed as very helpful to Hong Kong business CEOs. (Source3)


What is customer experience?
Customer experience is how your customers perceive their interactions with your business, whether it is online (digital touchpoints) or offline (physical touchpoints). Customers touch points can be broadly divided into five stages below.
How can your business enhance customer experience?
Create smooth, simple and seamless shopping experience

There are many new digital tools and technologies out there that can be used for digital marketing to create awareness for your brand, it is an field on its own and we will not be discussing it here.

However, you can create relevancy for your customer by providing them with helpful and relevant information at the consideration stage when they land at your visually pleasing and easily navigated online store or website.

Another important aspect is to simplify customer purchase journey and minimise the number of steps: click, buy, pay. Only ask for information that is absolutely necessary upfront and monitor drop-off points.


Create self-service options / automation

The bar for customer expectations of "right here, right now" have been risen dramatically in recent years due technological improvement of search engine and other tech platforms such as Amazon, Alibaba etc. Therefore, creating self-service options will help to improve your customer experience and create positive customer interaction by saving them time if they can find relevant information quickly and help them to make an informed purchasing decision online.


Deepen customer relationship

There are many ways one can deepen the relationship with customers. One way is to increase your exposure by increasing the number of interactions with customer by: -  Increasing the number of product and services your customer purchase from your business. -  Extending your engagement reach and tapping into customer lifecycle which you previously were not part of, such as post-purchase.


Create value for customers

Again, there are many ways to create value for your customer such as address customer concern in advance, offer personalised products or services. Hong Kong consumers specifically view the waiving of delivery fees, convenience to shop anytime and anywhere and special online discounts as the top three most important factors to shop online according to KPMG survey. (Source3)


bolttech plug and play can help you enhance your customer experience
Helps you increase customer communication and engagement – by having your own extended warranty program.


The plug & play solution can be easily integrated to your e-commerce store, with cutting edge features in minutes. It works as an add-on function and creates a seamless customer purchase journey.


By having your own extended warranty program, you will deepen your customer relationship by tapping into "post-purchase" consumer lifecycle and increase the number of products and services your customer purchase from you.


bolttech becomes your service provider to help you service your customer end-to-end.


Creates value for customers: bolttech offers free door-to-door service for extended warranty in HK with $0 customer charge.
If you are interested in finding out more, contact us at EWsales@bolttech.io to organise a free demo.

Fi Fi is the Global Pricing Lead for bolttech Device Protection and she received her MBA from Hong Kong University Science and Technology.


Source1: https://www.legco.gov.hk/research-publications/english/1920issh34-e-commerce-in-hong-kong-20200708-e.pdf
Source2:https://www.statista.com/outlook/243/118/ecommerce/hong-kong
Source3: https://assets.kpmg/content/dam/kpmg/cn/pdf/en/2017/11/outlook-for-e-commerce-in-hong-kong.pdf